Networking Program Synopsis & Course Aim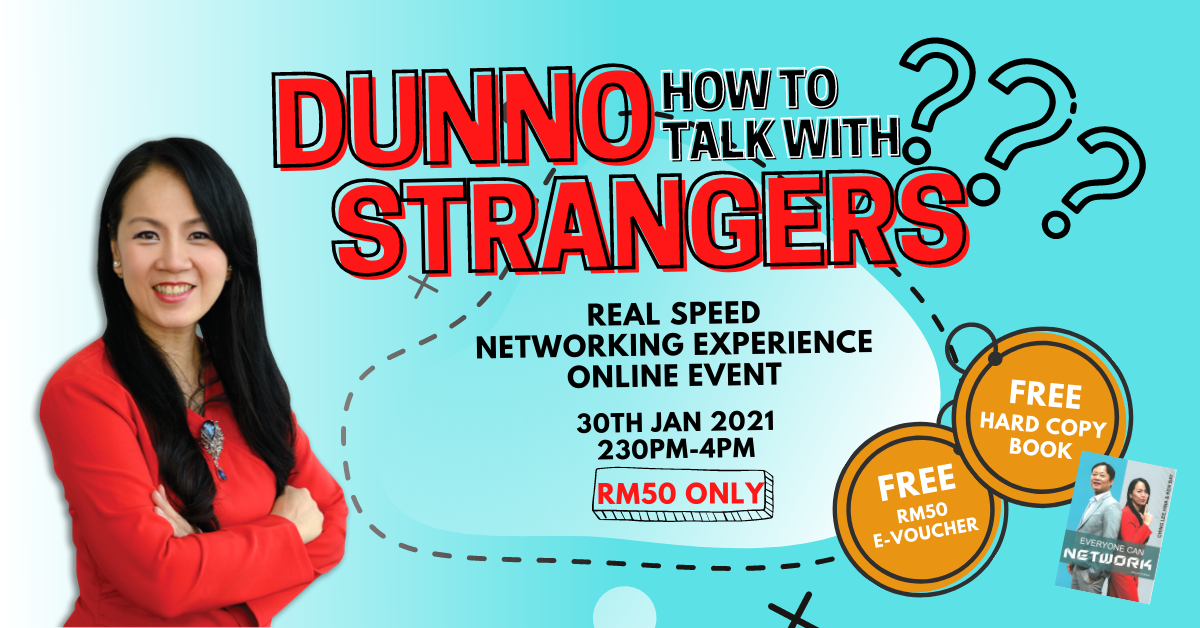 REAL SPEED NETWORKING EXPERIENCE ONLINE EVENT
DATE: 30th JAN 2021
TIME: 230PM – 4PM
You will learn:
• How to Network without fear of awkwardness
• How to start a conversation
• How to keep the conversation alive
• How to present yourself & connect with others in just 5 mins
Registration Fee:
• RM50 only (Come with RM50 e-voucher & FREE "Everyone Can Network" Hard Copy Book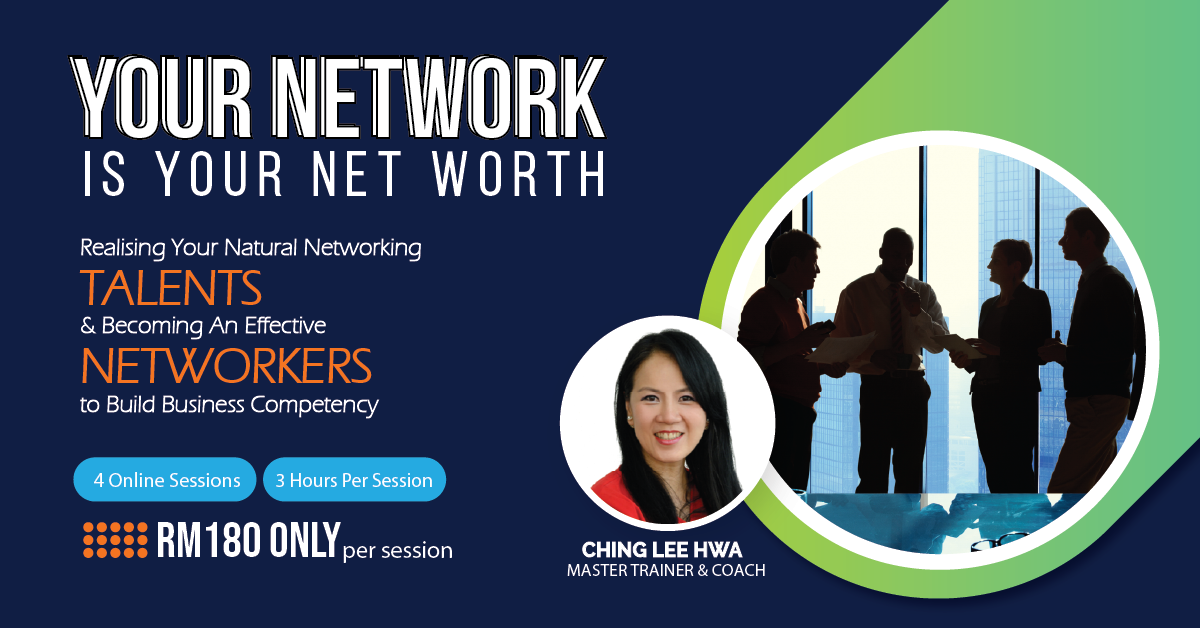 YOUR NETWORK IS YOUR NET WORTH ONLINE TRAINING COURSE
4 ONLINE SESSIONS
RM180 per session
Networking is a valuable way to expand your knowledge, learn from the success of others, get more quality leads and tell others about your business and your endeavour. A strong and active business network has advantages that can make your business grow and flourish by mastering the skill of generating High Quality Leads. It is expected that networking will result in opportunities be it professional or personal.
A good networker need to be more than just a pleasant personality. A combination of attitudes, soft skills, social competency, good values and personal traits to influence others are mandatory.
Having conscious awareness by understanding your present skill and pay attention on what you need to learn to be an effective networker will pave the way for you.
Some strongly believes that 'Your Network is Your Net Worth'. Whereas, some perceive that networking is a waste of time. Some think that networking is very personal agenda driven event and some even hate networking because of the unpleasant experience with the hardcore sales people.
Some fear of Networking because of the awkwardness of do not know how to start a conversation and how to keep the conversation alive.
Here we are to help you to demystify the myth.
COURSE AIM
1. Seeking for Potential Business
The primary purpose of business networking is to tell others about your business and hopefully turn them into customers. Networking may help to create opportunity and generating new customers.
2. Seeking for Business Growth
Often the benefit of the networking relationship is to obtain information and leads to further grow of business where individual may act upon the business opportunities. It may end up with potential partners found, business expansion or kick start a new company.
3. Increase Power of Influence to Drive Community Work
Networking is great time for sharing ideas, knowledge and connecting with like minded people who share the same passion and interest. Networking activities increases individual confidence and credential which may end up increasing individual power of influence to drive a community work.
LEARNING OUTCOME
1. Learners will understand the purpose of Networking and determine their own purpose of Networking
2. Learners will understand how to be an Effective Networker and adopt 80/20 principles to generate High Quality Network
3. Learners will learn to farm and understand how to convert their network to net worth
Methodology:
4 Sessions – Lecture, Breakout, Activities, Feedback and Discussion